Tri-County students celebrate 'Manufacturing Day'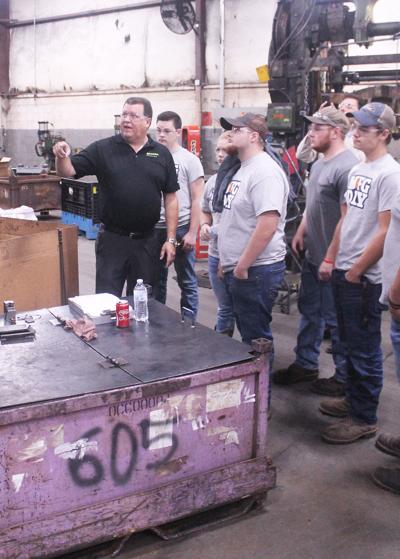 Photo by John Stran, The Logan Daily News
By JOHN STRAN For The Messenger. Note: This story appears in the Tuesday, Oct. 8 newspaper on Page A3.
LOGAN — A group of about 30 students from the Nelsonville-based Tri-County Career Center experienced a hands-on introduction to modern industrial technology and techniques at Amanda Manufacturing in Logan this past Friday morning in observance of Manufacturing Day.
With their safety glasses ready, the students were divided into small groups to tour of the company's 200,000-square-foot factory. They witnessed CNC wire forming, mechanical power pressing, the thread rolling process, robotic welding and the staking process.
Their final stop was the shipping warehouse where all of the raw and work in progress materials are stored. All of this work goes into making a single piece on a car such as a hood latch.
Amanda Manufacturing was founded in 1953 and specializes in cold and technical formed rod and wire products for various applications.
Mike Hood, vice president and floor manager of Amanda Manufacturing, said his company first celebrated Manufacturing Day. He said the company has even hired students who took this same tour last year. Following the more recent visit, several students asked how they too could apply to work there.
Click here to read the rest of the article in the Athens Messenger.