Athens asked to foot $1.8 million bill for Bailey's trail project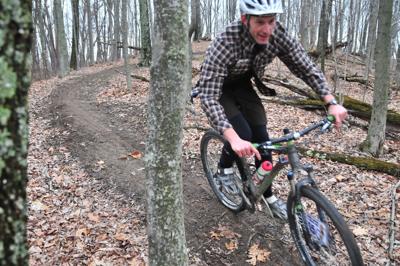 A cyclist is pictured riding on a trail at Strouds Run State Park. An 88-mile Baileys Mountain Bike Trail is proposed for Wayne National Forest. Local officials have said the project would bring significant tourism to Athens County if built. Messenger file photo.
By Heather Willard Messenger Staff Journalist
Note: This story appears in the Wednesday, Sept. 11 newspaper on Page A1.
It appears that the city of Athens is leaning toward paying at least $1.8 million toward the long-coming Bailey's Trail System project.
Seth Brown, a representative of Quantitative Ventures, a financial consulting group hired by the National Forest Foundation to secure funding for about half of the $12.3 million Bailey's Trail System project, spoke about the project Monday at Athens City Council's committee meetings. He told Council members that the city is being asked to pony up $90,000 a year for the next 20 years to help fund the project.
The project would eventually create 88 miles of non-motorized outdoor recreation trails in Athens County, starting at the Chauncey park, and has been heralded as a way to bring economic development through increased tourism.
Phase 1 of the trail project is to build 13 miles of trail beginning at Chauncey Park, and work is expected to begin later this month. The first section of trail will include some beginner, intermediate and advanced-rider trail.
The Outdoor Recreation Council of Appalachia, a council of governments including the city of Athens, was recently formed to help with the project. That council asked the Athens County Port Authority to consider issuing 10-year bonds to generate $3 million as the ORCA's portion of the project cost, which ORCA would then repay.
The Wayne National Forest has also begun fundraising for the project, having been awarded $150,000 through a grant by the Federal Recreational Trails Program. The Athens County Foundation has been awarded $150,000 in an REI/National Forest Foundation grant. The Ohio Department of Natural Resources also received a $1.79 million federal grant to fund not only some aspects of the Bailey's Trail System but also parts of the Chauncey spur of the Hockhocking Adena Bikeway from the Abandoned Mine Land Reclamation Economic Development Pilot program.
Click here to read the rest of the story in the Athens Messenger.