County issuing $1.5 million bond for new OhioMeansJobs location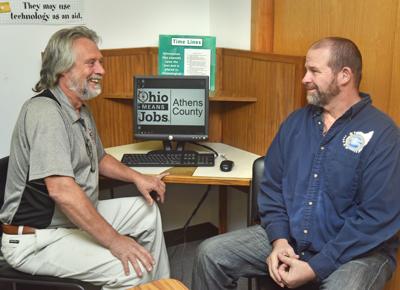 The OhioMeansJobs office is moving from The Plains to a building on West Union Street in Athens. The office gives Athens County adults a chance at job training and GED prep. Program supervisor Joe McGowan (on left) and instructor Scott Hatfield are seen in the classroom in this 2018 file photo. Messenger file photo.
By STEVE ROBB Messenger staff journalist
Issuance of a $1.5 million bond to pay for purchase by Athens County of a West Union Street building was approved Tuesday by the county commissioners.
The building at 510 W. Union St. in Athens will become the new home of the local OhioMeansJobs office (formerly The Work Station) and the Athens County Veterans Services Office. Both are currently in leased space in The Plains.
The Messenger reported in June that the commissioners had signed a purchase contract to acquire the building from Hocking River Properties Ltd. for $1.35 million.
Hocking Valley Bank has agreed to buy the 10-year bond, and bond payments will be made by Athens County Job and Family Services (ACJFS), which operates the OhioMeansJobs office. The office helps prepare people for employment.
Click here to read the rest of the story in the Athens Messenger.