Bonds may be issued for Wayne mountain bike trails
By STEVE ROBB Messenger staff journalist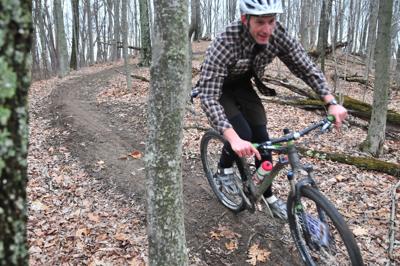 A cyclist rides on Scatter Ridge Trail at Strouds Run State Park. Messenger file photo
Bond financing to help pay for creating the Baileys Trail System in the Wayne National Forest is being proposed, and on Wednesday the Athens County Port Authority was asked to consider issuing the bonds.
The project, when completed, would be an 88-mile mountain biking trail located northwest of Chauncey, and there would be a trailhead at the village's community park. The Outdoor Recreation Council of Appalachia, a council of governments, was recently formed to work on the project.
Lenny Eliason, chairman of the council of governments, asked the Port Authority to consider issuing 10-year bonds to generate $3 million as the Outdoor Recreation Council of Appalachia's share of the project cost. He said the council would repay the bonds, with the port authority serving a pass through role.
Although Eliason said he would like the Port Authority to play that role at no cost to the council, it could also be structured to provide revenue to the Port Authority. He said it would not cost the port authority anything to issue the bonds, but it would be a cost saving to the recreation council.
Port Authority indicated a willingness to consider Eliason's request.
"First of all, the project I think is just splendid and if we could be involved in it potentially (it would be) the thing to do, it just comes down to the details…," said Port Authority Vice Chairman Robert Gall.
Port Authority board member Stacy Strauss noted that the principal mission of their organization is to facilitate economic development projects, which is how the Baileys project has been described.
"We need to ensure it's in line with the Port Authority's definitions of economic (development)," Strauss said.
Eliason was asked how many jobs would be created.
He responded that there would be some construction jobs, but the number of permanent jobs is hard to pin down.
"It's really a catalyst of the tourism industry," Eliason said. "It's going to contribute to that sector."
The port authority still needs to discuss whether it wants to benefit financially from the bond issuance. No action was taken at Wednesday's meeting.
Click here to read the rest of the story in the Athens Messenger.