Community creates a 'bounty' for local food pantries
By Cole Behrens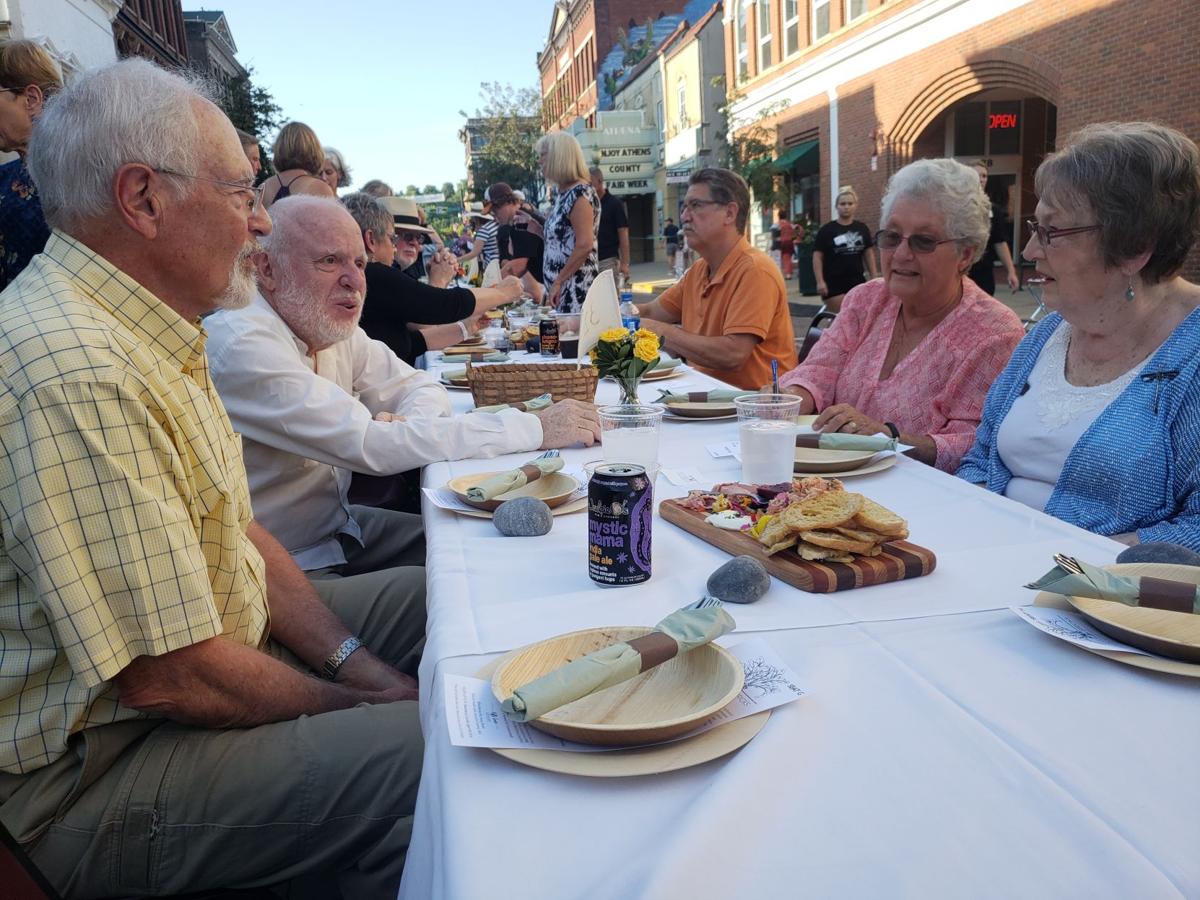 Click here to read original story in the Athens News.
Attendees at Bounty on the Bricks Saturday evening in uptown Athens enjoyed dry and sunny weather, great food and drink, bonhomie with fellow community members, and the knowledge they were contributing to a good cause, local food pantries.
This seventh annual charitable Bounty event featured a locally sourced meal served on a long series of tables stretching the length of one block of South Court Street (between Union and Washington streets).
OhioHealth O'Bleness Hospital led the planning efforts for the community-organized fundraising event. Bounty on the Bricks supports the Southeastern Ohio Foodbank and its food-pantry network.
Keely Stockwell, marketing and communication manager of O'Bleness, said the event drew more than 300 attendees, an increase over last year's Bounty event. ""We won't know total funds raised until we do final accounting, but in the past few years we've raised over $100,000 annually from this event, so we know we'll meet that goal again this year."
After a successful debut at last year's event, Becky Clark, owner of Pork and Pickles in Athens, returned as head chef. Where they could, she said, all food for Bounty on the Bricks was sourced locally. "Every one of these ingredients is a conversation with a local farmer," Clark said.
"Living in an economically depressed region, which is my home, food insecurity is such a thing for me," Clark added. "I have been fortunate enough to never suffer from food insecurity, but as a chef, I have seen it."
Mark Seckinger, president of OhioHealth O'Bleness Hospital, said the event "puts light on how a lot of people have food insecurity… O'Bleness is so proud to be doing this."
The fundraiser continued this year in close partnership with the Osteopathic Heritage Foundation of Nelsonville and the Sisters Health Foundation.
According to a news release before the event, "Bounty on the Bricks is an annual fundraising event in Athens that celebrates local farmers, fresh produce, the beauty of Court Street, and – most importantly – the generosity of the Athens community."
Stockwell said the event planning committee was led by OhioHealth and made up of community members and representatives from Ohio University Credit Union, the Athens Area Chamber of Commerce and the Southeast Ohio Foodbank. All other event staff were community volunteers, many of whom were students from area high schools.
"A lot of people are involved; it's a heavy lift but our great team makes it very easy," said Stockwell. "We couldn't do this without the volunteers."
Musical entertainment was provided by local guitarist John Horne and the Northwood Highs, an acoustic duo from Laurelville in Hocking County. – Athens NEWS contributor Cole Behrens contributed reporting to this article.