Local winery's new restaurant celebrates grand opening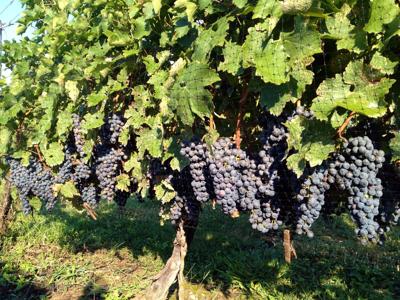 Grapes growing in abundance at the Shade Winery, southeast of Athens. The winery's new restaurant, The Terrace Cafe, is celebrating its grand opening this week and weekend. 
Click here to read the original story in the Athens News.
The new restaurant at Shade Winery southeast of Athens held a ribbon-cutting on Wednesday, and will celebrate its grand opening week of community engagement from now through the weekend.
According to a news release, local business owner and chef Francis McFadden and Neal and Oui Dix, owners of Shade Winery, joined forces to create The Terrace Café, "a small independent restaurant that will take a creative approach to the interaction of food & wine."
For the rest of this week and weekend, the release said, the Café will host daily giveaways, restaurant samplings, featured wine pairings, "as well as fresh and exciting daily specials on the menu."
The release continued, "The goal of this week is to increase community awareness of the dining experience the café offers, and the capability of the winery to host events and venues as it continues to develop as a tourism destination for the region."
Connecting local food and wine has a classic appeal at the Terrace Café, according to McFadden. "It's important to us that every menu choice you make is one you can feel good about," he said in the release. "The menu has a focus on sustainable, clean and premium ingredients."
McFadden is joined by local management team chef Josh Bolin and restaurant manager Saundra Buck. "At the Café, we want you to know where our food is sourced, its makeup and how it's managed across the food chain," Buck said in the release.
At Shade Winery, the Dixes are celebrating nine years of operation. "After nine years we've decided to grow and give our guests more options for comfort as well as more fine choices for food and drink," they said in the release. "We've converted the large deck into a covered pavilion, added a patio with fire pit, built the new kitchen, and added beer to our selection from behind the bar. We're happy to say that these new additions are being very well received and look forward to sharing our place with you."
McFadden is a former professor of wine and food at Drexel University prior to teaching culinary nutrition at Ohio University.