What the new state budget means for our area
By TYLER BUCHANAN Messenger editor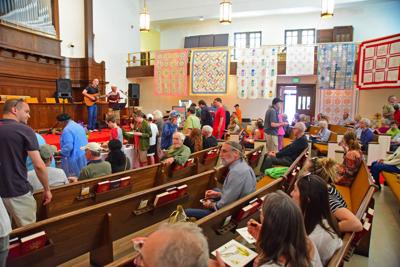 The "great hall" of the former First Christian Church in Athens — now home to the Southeast Ohio History Center — will be renovated for use as exhibit and conference space. The history museum received $100,000 in state funding toward the project as part of the $69 billion two-year budget passed this week. Messenger file photo by John Halley
Click here to read the entire story in the Athens Messenger.
The two-year state budget was approved by lawmakers on Wednesday and signed by Republican Gov. Mike DeWine on Thursday.
Here are some local highlights of the $69 billion budget, which concerns Fiscal Years 2020 and 2021.
Local history museum gets $ for renovation work
Hocking College & Ohio University to lead way in technical training
OU gets funding to support students, Appalachia
Hocking Valley Scenic Trail
Nonprofit benefiting Appalachian teens gets aid
Appalachian Assistance $
The budget provides funding for an array of programs and offices benefiting the region — all under a line item called "Appalachia Assistance," totaling $15 million in each of the next two years.
The Governor's Office of Appalachia is among the entities receiving some of that money. Led by former state legislator John Carey, the office is based in Columbus but serves 32 counties in the Appalachian region of Ohio.
Funding also pays for the Buckeye Hills Regional Council, of which Athens County and the city of Athens are members.
The money pays for Ohio's dues into the Appalachian Regional Commission, a federal-state partnership that provides grant funding to various infrastructure projects. The state's budget allows for some of this money to be used to match, when needed, the ARC project funding.
Lastly, $5 million goes toward the Foundation for Appalachian Ohio, a Nelsonville-based organization with philanthropic ties to the entire region. This foundation also serves 32 Appalachian counties through grant and scholarship funding.