Glouster group works to revitalize north-county village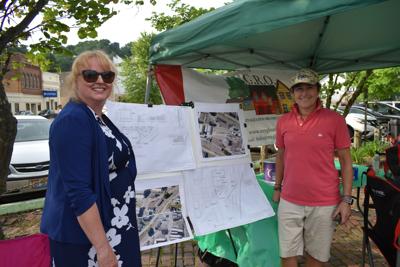 JoAnn Rockhold, left, and Jane Cavarozzi are members of the Glouster Revitalization Organization, which is attempting to bring economic development to Glouster. They're pictured here at Glouster's First Fridays event in early June. Photo by Conor Morris.
By Conor Morris
Click here to read the original story in the Athens News.
A dedicated group of Glouster area residents and business owners are trying to revitalize that north-county community through a new non-profit organization called the Glouster Revitalization Organization (GRO).
GRO President Jane Cavarozzi and GRO member JoAnn Rockhold talked about their efforts to get this non-profit off the ground amid the backdrop of one of Glouster's first "First Friday" community events in early June, held at the old Glouster Depot station. Much like Nelsonville's "Final Fridays" held at the end of every month, the Glouster event offered music, food and local artists, and businesses had set up booths to sell products and engage with the community.
Cavarozzi (who owns Dirty Girl Coffee at nearby Burr Oak State Park) and Rockhold (who works as an Athens County Commissioners clerk) said they hope to use the new 501c3 non-profit GRO to raise funds to redevelop some spaces on Front Street in Glouster. The hope is to bring badly needed businesses, tourism, community engagement and foot traffic back to that town's downtown area.
Badly needed is not an overstatement. Much like the downtowns of many other small communities across Appalachia where coal mining once kept the local economy buzzing, Front Street is filled with boarded-up buildings, though some committed businesses and organizations remain downtown. Roughly 40 percent of the people of Glouster – total population 1,791 as of the 2010 Census – live below the poverty line, in a county that is considered by some metrics to be the poorest in Ohio.
Yet, these statistics don't define the town or its residents. That's why the GRO organization has set up two big goals for itself even in its infancy as an organization.
For one, Rockhold and Cavarozzi said they want to utilize the space left over from demolition of the old Wonder Bar building on Front Street in Glouster to create a "hardscape" community park and venue. A gazebo would double as a stage, and various other amenities would be part of the project.
Meanwhile, the group's larger goal is to redevelop the old, three-story Knights of Pythias building at 106 High St. (built in 1900, according to the Athens County Auditor's Office website) to become a new hub for businesses and community organizations.
Cavarozzi said that GRO emerged from the Glouster Community Development Corporation, a major advocate for the county to create a land bank to help remove blighted properties. While working with that organization, Cavarozzi said, she learned that Glouster suffers from a general lack of infrastructure to support business growth.
"The buildings that are here are dilapidated and really in need of urgent renovation or we're going to lose them… Clearly we've lost the building that was right here, the Wonder Bar building," Cavarozzi said, gesturing at the empty plot of land that once held that building. "We would have loved to have saved (but) it just wasn't a feasible option (financially)."
While the community venue idea for the old Wonder Bar location is an easier goal, Cavarozzi and Rockhold said they really want the Knights of Pythias building project to attract an investor who "cares about the community." She said she's confident that the GRO organization has a great return-on-investment plan for whoever might be interested.
Cavarozzi said she envisions it as a kind of "North Market" entrepreneurial food space on the first floor, with room for three to five vendors. On the second floor, she said community organizations could have plenty of office space. The GRO already has seen some interest from nonprofit organizations in the county such as Hocking-Athens-Perry Community Action agency (which already has its main office in Glouster), she said.
Meanwhile, she added, the third floor is a "magical" ballroom with 16-foot-high ceilings that could become an ideal venue space for weddings and other community events. Still, renovating the building in order to house these elements comes with a steep cost, around $600,000 or so, Cavarozzi and Rockhold estimated.
PART OF THE FORMULA FOR success in Glouster is the Athens County Land Bank, Cavarozzi said, which is continuing its goal of aquiring tax-delinquent properties in Glouster and elsewhere and demolishing them to hopefully make way for future end users.
Athens County Treasurer Ric Wasserman, who's closely involved in the Land Bank, attended the First Friday event in June.
Wasserman noted that the Land Bank has acquired some tax-delinquent properties that it doesn't plan on demolishing, including a property on 29 Main St. in Glouster that has "good old bones," that could be great targets for renovation, if the county can find a responsible party to take those properties over. More information can be found at http://www.co.athensoh.org/business/land_bank.php.
Also attending the First Fridays event in early June were several artists, who had been invited to the event by James Pepper Kelly and Kate Hampel with Folly Arts, a new arts-residency program located in Bishopville, just outside Glouster.
Kelly and Hampel moved to the area last year and are using their home to house these artists; so far, Kelly said they have artists lined up from Chicago, Los Angeles and Columbus. And the art they're creating has a local focus: during the First Fridays event, artists were creating cyanotypes of photographs of plants found in Glouster and at their home.
"We invite them to come and stay with us and work, and then we find tie-ins to the community (with their artwork)," Kelly said.
GINA GABRIEL, OWNER of Congress Run Greenhouse with her husband Mike Gabriel, also attended the First Fridays event with a stall selling plants and flowers. She said they moved to Glouster with their six children from
Columbus in late 2017 to run the greenhouse. That's a bit of a rarity in Glouster, Cavarozzi and Rockhold confirmed, considering many young people aren't staying in the town due to a lack of work opportunities. Especially with a lack of public transportation options in Glouster, Cavarozzi added, it can be difficult for people to stay in Glouster and commute if they have a job in Athens or Nelsonville.
"It means younger people are leaving our community to get other jobs," Cavarozzi said.
Fortunately, Gabriel said she and her family love Glouster. She cited the community's friendly residents and the great natural features nearby, including Burr Oak State Park. "It's been amazing, everyone has been really friendly and welcoming and just so helpful," she said.
Gabriel added that she wishes people would understand that Glouster is a great place "still."
"Whatever has happened in the past doesn't define it," she said. "Every day is really a new day for it to find itself."
The final First Friday of the season is set for Friday, Aug. 2 at the Glouster Depot. Cavarozzi said that First Fridays will continue next year (she said her business has been paying for the event), although she's looking for a volunteer to help her administer it.
Meanwhile, anybody looking to help out with GRO is welcome to donate