In new ARC ranking, Athens County downgraded to 'distressed'
By Cole Behrens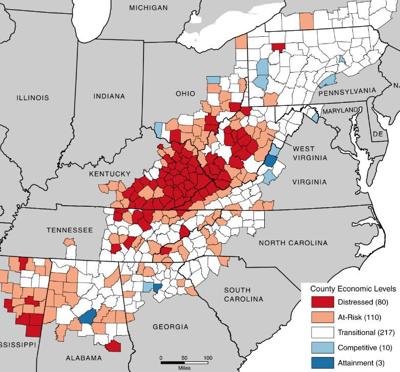 Click here to read the original story in the Athens News.
Athens County was just ranked among the lowest 10 percent of economically performing counties in the country by the federal Appalachian Regional Commission.
On June 25, the ARC designated Athens County, along with three other Ohio counties, as distressed, or in the worst 10 percent of counties in that category in the country, according to information on the ARC website.
The ARC is a multi-state commission, consisting of 420 counties in 13 states, all the way from New York to Mississippi.
Distressed is the lowest-possible designation issued by the ARC. Last year, Athens County was listed as "at-risk," or within the 10 to 25 percent of worst-performing counties in the country.
The other possible rankings are:
• Transitional – This ranking is in the middle, and means the county is transitioning between a strong and a weak county, and can indicate change in either direction. These are between the best 25 and worst 25 percent of counties in the United States.
• Competitive – Counties ranking between the best 25 and 10 percent of counties in the United States are considered competitive.
• Attainment – Counties with attainment status are among the nation's most economically strong, within the top 10 percent of counties in the country.
According to the ARC website, these rankings are calculated using a comparison of the national average to a county's three-year average unemployment rate, per-capita market income, and poverty rate.
The ARC uses this designations and calculations to create a balanced system for the financial resources it disburses to counties, the website said. Counties ranked distressed or at-risk receive more matching funds for projects.
Distressed counties can receive up to 80 percent in matching funds from the ARC.
ATHENS COUNTY HAS AN unemployment rate of 6.5 percent for 2019, according to the federal Bureau of Labor Statistics (BLS). Meigs County, which was also ranked as distressed, had an alarming 8.8 percent unemployment in 2019. The national average unemployment rate is 3.6 percent.
According to the U.S. Census Bureau, Athens County has a poverty rate of 28.8 percent. Meigs County has a poverty rate of 19.9 percent.
Athens County has an average personal income – used to compute per-capita market income – of  $32,610 in 2017, a 1.2 percent change from 2016, according to the federal Bureau of Economic Analysis. Athens County ranks 83rd of 88 counties in Ohio in this statistic. Meigs County ranked 82ndin 2017, with an average personal income of $32,964.
Overall, Appalachia improved economically as a region, according to an ARC press release.
Fiscal year 2020 will see the least amount of distressed counties since 2008, the release said. Furthermore, 29 counties across eight states achieved "positive shift in economic status."
"ARC and our state partners use this data to direct critical investments toward distressed areas, and I am pleased to see net improvements in many parts of the region compared to previous years," Tim Thomas, ARC federal co-chair, said in the press release.
However, along with Athens County, 17 other counties experienced a negative economic shift, the release said. These primarily include "coal-impacted" counties in Ohio, West Virginia and Pennsylvania.
Jack Frech, the former Athens County Job and Family Services director and a longtime regional anti-poverty advocate, said the recent ranking of Athens County as "distressed" highlights the importance of action for Athens County.
"What it really spells out is that we need to up our game and work harder on poverty-related issues," Frech said.
He said the only way to ensure a decline in regional poverty is to ensure people in poverty have enough money. "That's the only way you fix poverty," he said
Frech said he has no doubt that the off-campus OU student population in Athens, who are regarded by statistic gatherers to be residents of Athens County, are contributing to the poverty statistics in the county.
He said students typically don't have full-time jobs while they attend college, have very little in the way of stable income, and subsist on money from their parents, borrowed money and credit.
He did, however, highlight the importance of students to the local economy, saying they drive the economy of the city of Athens.
"The irony of the situation is that we have 19,000 students here, paying $20,000 a year, brings millions of dollars into the community," Frech said. "Students have credit to borrow for food and housing, which the folks out in the county can't do."
Frech said he wants Athens County to take deliberate steps to reduce poverty and increase income.
"You know what we need to be doing instead of focusing on (the ARC designation), we need to be number one in our commitment to fixing this; that's what we need to be focusing on," Frech said. "The county, the city, the institution, need to recognize it needs to be our primary goal to fix this problem."
A "Reader's Forum" by Frech, which addresses how students in Athens affect poverty statistics for Athens County, appears on our website here.