Conservancy buys 440 acres to connect Strouds Run with other rec lands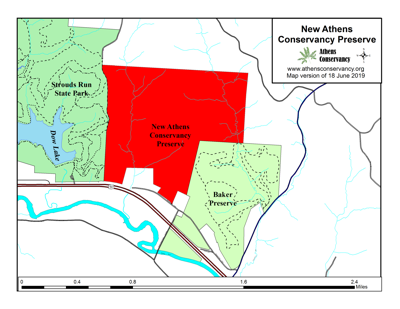 Click here to read original story in the Athens News.
The Athens Conservancy on June 17 used a Clean Ohio grant to purchase 440 acres of land adjoining the eastern boundary of Strouds Run State Park.
According to a news releaee announcing the purchase, it "will protect excellent wildlife habitat and provide new recreational opportunities for hikers, birders, nature photographers and others who enjoy low-impact outdoor activities."
The new acquisition connects the park with the 269-acre Baker tract (private land on which the Conservancy holds an unusual conservation easement that permits public access). Although the new preserve is open to the public, it currently has no trail access or parking area. The release said the Conservancy would like to make the land more accessible by working with community volunteers to connect the existing network of trails in the newly acquired land with the trail systems in the state park and Baker tract.
Once this is done, "it will be possible to hike from Sells Park to Ohio Rt. 690 entirely on trails, a distance of more than eight miles, without crossing a road," Athens Conservancy board member Phil Cantino said in the release.
The new preserve is mostly wooded and offers a diversity of habitat for native plants and animals, including old and young forest, scenic rock formations, and two perennial tributaries of the Hocking River (1.5 miles of stream bed), the release said.