County close to buying building for jobs program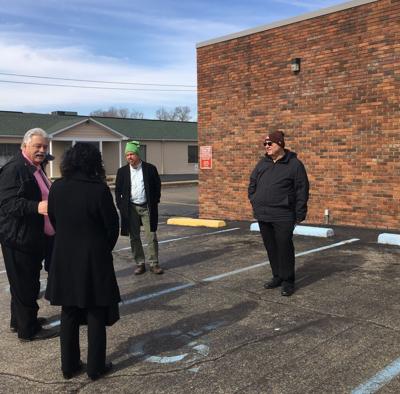 The three county commissioners are seen with Jean Demosky (foreground), the Athens County Job and Family Services executive director, following a February tour of the West Union Street building.
By STEVE ROBB Messenger staff journalist
Click here to read original story in the Athens Messenger.
A price has been agreed upon for purchase of a West Union Street building as a new location for the OhioMeansJobs program, according to the Athens County Commissioners.
Because a purchase contract had not yet been signed as of Tuesday morning, the commissioners declined to reveal the purchase price. In February, when county officials toured the building at 510 W. Union St. in Athens, the asking price was $1.5 million.
Last month, Commissioner Charlie Adkins said negotiations for purchase of the building were not moving forward, and the commissioners discussed the possibility of constructing a building adjacent to the existing Athens County Job and Family Services (ACJFS) office near Chauncey.
OhioMeansJobs, formerly known as The Work Station, is an ACJFS program that helps people overcome barriers to employment.
On Tuesday, Adkins said the owners of the Union Street building had accepted the county's offer. The commissioners on Tuesday instructed Jean Demosky, ACJFS executive director, to discuss with bond counsel the interest rates and bond terms available in the current market. Commission President Lenny Eliason said the plan is to sell bonds to finance the purchase, with bond payments to be made by ACJFS. The bond would also provide money for remodeling the building.
Space for OhioMeansJobs is currently leased in The Plains at an annual cost of about $60,000.
Demosky has said previously the program needs more space than it has now.
"I would like to expand our services, and that requires more space," Demosky said in February, adding that there is also a need for more training space.
If the building purchase moves forward, the timing of the program's move could depend in part on when the current tenant moves out. The building houses a Veterans Administration clinic that is moving to The Plains.