Nelsonville, Albany bus service to start in August
By STEVE ROBB Messenger staff journalist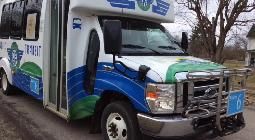 Click here to read original story in the Athens Messenger.
Bus service to Albany and Nelsonville is slated to begin in August, according to Jessie Schmitzer, Athens County mobility coordinator for Hocking-Athens-Perry Community Action.
Schmitzer said details of the service will be announced later, but she did say that the fare would be $1. Service will be provided by Athens Public Transit, and transfers will be free — meaning that someone could, for example, get on the bus for $1 in Nelsonville and ride to Athens, then use the routes in Athens for no additional cost, or, for that matter, go to Albany. Riders traveling from Albany could do the same.
She explained that the first six months of the pilot project will be funded with $90,000 in grants and donations. After that, a 50 percent match would be needed to access funding through the Ohio Department of Transportation.
One possible source for that match could be 0.25 percent sales tax, if the Athens County Commissioners decide to put it on the ballot and if voters approve it. Schmitzer said she'd like to see the tax issue on this November's ballot so that the Albany and Nelsonville service could continue.
Schmitzer and Community Action Executive Director Kelly Hatas met last month with the commissioners to discuss putting on a ballot issue for a 0.25 percent sales tax earmarked for public transit. The proposal is to use the money to expand Athens Public Transit to serve outlying areas and to expand Athens on Demand for use by the general public to serve areas not on fixed routes.
The commissioners cautioned that such a tax should have countywide support, and Commission President Lenny Eliason suggested that focus groups be held in different parts of the county.
HAPCAP organized a series of public meetings which began June 5.
At one such meeting at the Athens Public Library on Monday morning, Schmitzer said that there hasn't been a lot of public participation so far at the meetings.
The series concludes this week:
Tuesday, June 18 — 10 a.m. and 5:30 p.m. at Stuart's Opera House, Nelsonville
Wednesday, June 19 — 10 a.m. and 5:30 p.m. at Amesville Village Productions, Amesville
Schmitzer said she is making presentations to city and village councils around the county in the hope that members can get the word out to their constituents. So far, she's been to Glouster Council and said members seemed supportive. A question Council members there had, though, is what guarantee is there that Glouster would get a bus line if residents supported the sales tax.
Schmitzer said the idea is to have fixed routes to population centers such as Glouster, Coolville and Amesville. Until those are in place, the expanded Athens on Demand could provide service. She said other providers could also potentially receive funding from the sales tax, noting that it would be up to the county commissioners to determine how the tax revenue would be distributed.
Schmitzer said she will be making presentations to Nelsonville City Council next Monday and to the Trimble and Coolville councils in July.
Athens Mayor Steve Patterson is a supporter of the expansion to Athens Public Transit, and said he met with Nelsonville City Council as early as 2015 to discuss the idea.
Patterson said expanded transportation could help with economic development and access to and from educational and healthcare institutions.
"This is going to be a game changer for people in our region," Patterson said.