Residents asked to make voices heard on transportation needs
By TYLER BUCHANAN Messenger editor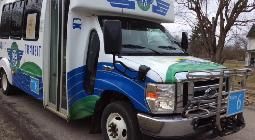 Click here to read original story in the Athens Messenger. Note: This story appears in the Sunday, June 9 newspaper on Page A1.
What do residents think about a possible sales tax increase to fund more transportation in Athens County?
A series of community forums are being planned this month to determine that answer.
Two have already been held in Glouster and New Marshfield. Here are details about a dozen more meetings scheduled on the topic. As noted, there are two meetings planned for each date and location:
Monday, June 10, 10 a.m. and 5:30 p.m. — Albany City Building (5153 Alton St., Albany)
Tuesday, June 11, 10 a.m. and 5:30 p.m. — Athens Friends Meeting House (22 Birge Drive, Chauncey)
Thursday, June 13, 10 a.m. and 5:30 p.m. — Coolville United Methodist Church (26460 Main St., Coolville)
Monday, June 17, 10 a.m. and 5:30 p.m. — Athens Public Library (30 Home St., Athens)
Tuesday, Jun
e 18, 10 a.m. and 5:30 p.m. — Stuart's Opera House (52 Public Square, Nelsonville)
Wednesday, June 19, 10 a.m. and 5:30 p.m. — Amesville Village Productions (16 State St., Amesville)
Those who seek transportation to these events or require special accommodations are asked to contact Athens County Mobility Manager Jessie Schmitzer at 740-594-8499 or email jessie.schmitzer@hapcap.org.
The Athens Mobility Management Program is hosting these informational meetings, which are all open to the public. The mobility program is part of a statewide initiative from the Ohio Department of Transportation and is operated in Athens County by Hocking-Athens-Perry Community Action. The program serves to "(coordinate) the transportation needs of Athens County," according to its website.
In May, Schmitzer asked if the commissioners would be "comfortable thinking about" placing a 0.25 percent, five-year sales tax on the November ballot. It would generate approximately $900,000 per year if approved by voters.
The increase would help fund a proposal to expand Athens Public Transit services to other areas of the county, such as Albany and Nelsonville. Schmitzer also told the commissioners the proposal would expand the Athens on Demand Transit program, which serves people with disabilities, senior citizens and others with temporary mobility issues. Schmitzer said the extra funding would open that transit service to the general public, The Messenger previously reported.
At the May meeting, the commissioners encouraged Schmitzer and others to host focus groups around the county on the subject. These meetings, Commissioner Lenny Eliason said, could help to gauge opinions about transportation needs and if voters would support a sales tax ballot issue to fund increased services.