Getting library services in Amesville will be a lock(er)
By Heather Willard Messenger Staff Journalist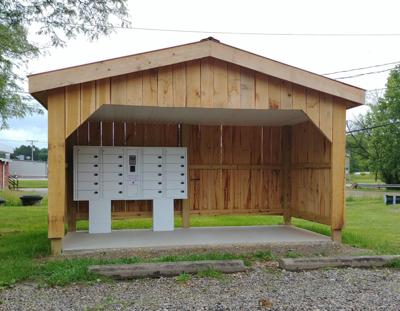 Click here to read original story in the Athens Messenger. This story appears in the Friday, June 7 newspaper on Page A3.
AMESVILLE — There is a new way for patrons of the Athens County Public Library system to pick up books in Amesville — the village now has a drop off and pickup location for library materials through the new locker library.
The lockers, which are located behind the Village Productions building at 16 E. State St., will be where Amesville residents pick up requested books, movies and more without having to travel to another town.
According to Mayor Gary Goosman, the lockers were a result of continued discussions after the library system was able to provide free WiFi to the Village Productions building. The WiFi hotspot is funded through a grant, and is a boon to the town, Goosman said. Often, phone lines go down in the village, which also has a lack of cell phone coverage. The hotspot offers a place in town to pay online bills, check email or finish homework. The hotspot was installed in 2014, and is maintained by the library system.
The lockers were also paid for through grant funds, this time coming from the federal Institute of Museum and Library Services and awarded by the State Library of Ohio. The electronic lockers are a high-tech addition that the mayor anticipates will be welcomed by the community, as transportation can be a barrier for those living in the area.
"People out here without reliable transportation, or don't have the opportunity to go to town, can order all sorts of things out here, and it'll just show up in Amesville," he said. "The technology is really neat, because you can order online, and once or twice a week they email you with the combination, or you take your library card there and scan it, and the locker with your books pops open, and then there's a book drop and you bring them back."
The lockers are set to be debuted on the first Coonskin Saturday, scheduled for June 15, an event marked by food, music, vendors and more. The ribbon cutting will be held during the event. Goosman said he was excited for the lockers to be in service soon.
"I want to be one of the first ones to order online and have them show up," he said. "For a small town in the middle of nowhere, it's great to have this piece of technology in our community."
There are 20 lockers total, and the service is planned to soft launch in early- to mid-June, prior to the ribbon cutting.
"We're so excited to expand library service into Amesville," said Laura O'Neil, library outreach services manager. "This has been a long-term dream and goal for us, so it's been fun getting to see the wooden locker shelter take shape a little more each week."