Company makes pitch for acquiring Atco building
By STEVE ROBB Messenger staff journalist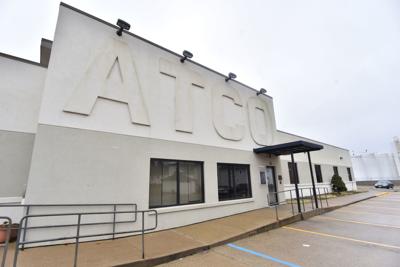 Click here to read original story in the Athens Messenger. This story appears in the Thursday, June 6 newspaper on Page A1.
Athens Mayor Steve Patterson lent his support when a representative of Athens Mold and Machine told the Athens County Commissioners that the company would like to acquire the former Atco sheltered workshop building.
Patterson and Sam Thornton, manager and part owner of the company, met with Commissioners Chris Chmiel and Charlie Adkins on Monday. Commissioner Lenny Eliason could not attend.
Future use of the former Atco building on Campbell Street in Athens has a notable topic of discussion in the past few months. Last November, the county board of elections asked to move its offices there. It's also been discussed as a potential location of the county records center. In May, the commissioners voted 2-1 to hire an architect to determine if the building would be suitable as new locations for the sheriff's office, 911 Center and the Athens County Emergency Management Agency.
Chmiel cast the "no" vote, and said he thought use of the building by Athens Mold and Machine should be explored. He invited Thornton to Monday's commissioners meeting. The company, which manufactures tire molds and related items, is located adjacent to the county-owned Atco building.
Thornton said the company's customers buy 90 percent of their tire molds and allied items overseas. But lately, he said, there has been a swing toward buying more in the U.S. and the company's customers have expressed a desire to do so.
"It's our strong belief that our market could explode at any time and when it happens we're going to have to move quickly to capture the market," Thornton said.
Thornton said the Atco building would allow the company to expand quickly and without a major capital investment in a constructing a new facility.
"If we obtain the building, I believe it will benefit the community by employing 30 more members of our community at an average of $17 an hour, creating a larger footprint for manufacturing here in Athens and injecting … $375,000 more dollars a month into our community," Thornton said.
Patterson said he believes the company would encounter "almost insurmountable challenges" if it tried to construct a new building in the floodplain.
"…I am in support of what they are wanting to do," Patterson said. "We don't have a whole lot of solid, ready, turnkey manufacturing sites in the city of Athens."
Adkins had earlier questioned why the company wouldn't just build on the large parking area at its current location off Mill Street. The company rents out parking spaces.
Thornton said it "gives us revenue right now to stay a strong company against our competitors, especially overseas competitors." Also, he noted that the large parking area was built because of the number of employees who worked on the property in the past. "Which would be good for us, to get up to that," he said.
Adkins said after the meeting that his priority right now is to get the sheriff's office, 911 and EMS to a new location where there is room to expand.
He said he supports job creation, but would need more from Athens Mold and Machine.
"I would have to get a real commitment," Adkins said.