Richland Ave. Pedestrian Bridge back in discussion
By Heather Willard Messenger Staff Journalist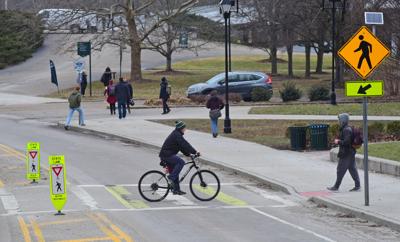 Click here to see original story in the Athens Messenger.
Athens City Council members have approved a large funding request to build a pedestrian crossing project on Richland Avenue near the Convocation Center.
The project has been in the works for several years, with officials deeming it necessary to improve pedestrian safety and the flow of traffic. The crosswalk would be reconstructed to be an underpass of the roadway, connecting Ohio University's West Green to the center of campus.
The project is now anticipated to cost $3.4 million, with the city to pay $1.4 million of that cost. Ohio University has already pledged $400,000 toward the project as well, and university administrators are expected to approach the OU Board of Trustees to approve further funding at an upcoming meeting. Grant funding from the Ohio Department of Transportation will pay for the remaining amount.
The project is set to begin March 2020 and be completed by September. A Mansfield-based construction company has already been awarded a bid to complete the project.
The project was approved with six members in favor and Council Member Patrick McGee dissenting. McGee expressed that he has opposed this project since it was first introduced, and said again Monday that he would like to see alternatives considered.