New natural-foods grocery opens on East State Steet
By Hardika Singh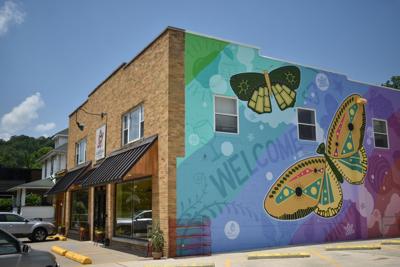 Click here to see original story in the Athens News.
Kindred Market, an independent, full-service natural and organic-foods grocery, opened Saturday on East State Street to the general public after a "soft opening" last Tuesday.
Kindred joins The Farmacy on Stimson Avenue as the second natural-food grocery outlet on Athens' Near East Side.
Since opening, the store's general manager, Riley Kinnard, said that the family-owned and locally sourced store has had steady traffic with lots of people buying, for example, beverages such as kombucha, mocha and energy drinks.
"We've had a steady stream (of customers)," Kinnard said in an interview Tuesday. "I'm very happy. Positive customers ever since we opened the store. Even yesterday on Memorial Day was a pretty big day for us on a holiday when a lot of people are traveling."
The store is located in a building that used to be occupied by Premiere Video. The Athens Bread Company also occupies a small space in the building at 284 E. State St.
Kinnard said the store offers a variety of products and services, such as a grab-and-go case with salads, soups and sandwiches, taps for local beers and kombucha, a small coffee and espresso café with seats, and a full assortment of grocery store goods with a focus on natural and organic products.
The Kindred Market also features an extensive bulk section with lentils, coffee beans, beans, candy and other things, according to Kinnard. She said that this way people can fill up their containers with however much they want of a variety of products and thereby reduce waste.
Other items offered by the store are bulk cleaning and hygiene products, such as shampoo, laundry detergent and glass cleaner.
"We're trying very hard to link up with local vendors to boost the local food economy," Kinnard said. "We also are just a fun, happy, lively place to be."
Kinnard said she's counting on customers coming to the store to find products they cannot find elsewhere.
"We pay close attention to ingredients in our products," she said. "…We prioritize organic products and also local products."
Kinnard said she's delighted to finally open the store of her dreams with her family after a year of planning. A grand opening for the store will be held toward the end of summer, she said, when more students are in town. She wants to plan a fun event with music in the parking lot and will ask local vendors to participate as well, she said.
 "We hope to become somewhat of a neighborhood market, a hangout, a community center," Kinnard said. "We're a great place to grab some coffee or espresso and get a quick sandwich or soup.
The store is open from 8 a.m. to 8 p.m. Mondays through Saturdays and 10 a.m. to 6 p.m. on Sundays.