Low-income housing credits awarded for renovation project at Carpenter Hall
Click here to see original story in the Athens News.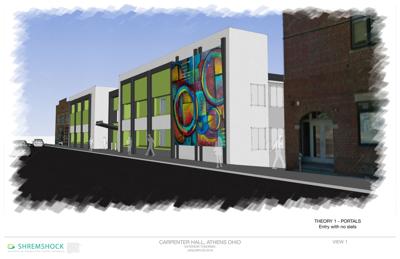 Finance Fund has been awarded low-income housing tax credits ("LIHTC") from Ohio Housing Finance Agency to preserve affordable housing in Athens, according to a news release from the Fund, a statewide nonprofit.
Carpenter Hall, a 53-unit development built in the early 1980s, consists of six efficiency, 44 single-bedroom, and three two-bedroom apartments. It's located in uptown Athens, near the Carpenter-Court Street intersection. The nearly $8 million acquisition and renovation "will protect precious affordable housing in Athens for the next 30 years," the release stated.
Sitting among new market rate and student rental housing and commercial development, Carpenter Hall, a home to lower-income residents of Athens for decades, had recently become a target for market-rate conversion. However, according to the news release, Finance Fund, in partnership with Integrated Services for Behavioral Health, Inc. ("ISBH"), managed secure the property and the necessary funding to renovate and enhance Carpenter Hall for lower-income residents, the release said, "preserving the mixed-income community so many cities strive to create."
The Renovated Carpenter Hall will include a new lobby with a sundry, an on-site leasing office, a new community kitchen, a health-care office, new laundry areas, and an exercise room. ISBH will provide behavioral health care and service coordination and offer accessible pregnancy and infant-care assistance through Help Me Grow, the release said. All units in Carpenter Hall are eligible to residents with incomes up to 60% of the area median income, while 25% of those units will be set aside for residents with incomes not exceeding 30% of the area median income. HUD Project-Based vouchers will provide eligible residents with rental subsidy.
"The low-income housing tax credit allocation is a critical component to our ability to preserve affordable housing in downtown Athens," Diana Turoff, Finance Fund's president and CEO, said in the release. "We believe the improved shared spaces and services that will be added at Carpenter Hall will strengthen this community."
According to the release, "Finance Fund was created to improve outcomes in distressed urban and rural communities across Ohio. Founded in 1987, Finance Fund is a mission-driven statewide nonprofit financial intermediary that has an impactful and dynamic history of connecting Ohio's underserved communities with needed capital and creative funding. Finance Fund is focused on stimulating economic development by investing in projects that create jobs and increase access to goods and services…"