Distillery moves to Athens; will feature tasting room
By Conor Morris
Click here to see original story in the Athens News.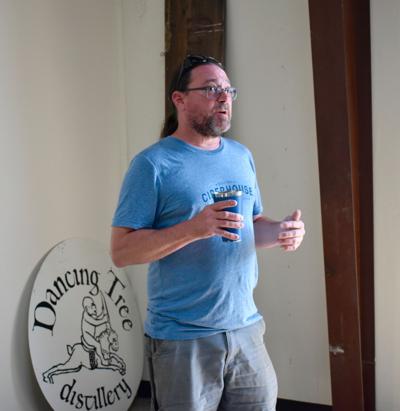 The co-owner of the West End Ciderhouse hosted a tour last week showcasing a new distillery facility on Athens' West Side that soon will be selling retail bottles of locally crafted liquor and cider.
The distillery, previously known as Dancing Tree Distillery, now called the West End Ciderworks and Distillery (or simply the West End Distillery), had been located in Meigs County since 2012. Now, co-owners Kelly Sauber and Deanna Schwartz have moved those operations to the former Electric Motor Services building at 237 W. State St.
Sauber explained during the tour Saturday that he hopes to open the business for customers by Ohio Brew Week (July 12-20), with a grand-opening event to occur at a later date.
Essentially, a large portion of the building (which was totally renovated by the business owners, including new utilities) will play host to a tasting room for the gin, bourbon, vodka and brandies that will be made on-site. Bottles of that liquor will be available for sale for off-premises consumption as well. The distillery will have six or more taps for ciders for on-site consumption, and eventually will sell specialty packaged ciders for off-site consumption (such as the Ciderhouse's gin-barrel-aged cider and persimmon cider).
Sauber added that there's about 2,500 square feet of unused, undeveloped space inside the warehouse that he's currently not using. He's open to hearing concepts for a new restaurant going into that space, although it may just be used for storage as the business grows.
Sauber said that Ohio, through its Division of Liquor Control, has extremely restrictive measures surrounding the sale of liquor in Ohio, which makes it difficult for small craft distillers to grow their operations. Thanks to a recent change of rules, however, he said he's now able to sell his own liquor for off-premises consumption at his business (once the business is open).
Sauber explained that if a distiller wants to sell its products in Ohio, it essentially has to transport pallets of the products to a state-contracted private warehouse (there's only two in all of Ohio); the product is then sent to individual liquor stores; then the individual liquor stores sell that liquor to bars, restaurants and retail locations.
Because of costs relating to that process, taxes and other regulations, it ends up being that for every sale of Sauber's $33.95 bottle of vodka at the Athens Kroger store, he gets an estimated $17 to $18 dollars, with the state getting the rest.
"It's really difficult," Sauber said. "That's why most small craft distillers don't come into Ohio, because of that."
Even with the change of rules to allow Sauber to sell his business' bottles of liquor at the distillery it owns, those same state fees and taxes still come into play, meaning it's not any more profitable for distillers to sell their own products on-site.
Despite those difficulties, Sauber and Schwartz both told this reporter that they're excited about the new distillery operation.
This all comes as the West End Ciderhouse celebrated its fifth-year anniversary on May 22.