Plans call for Athens to Albany, Nelsonville bus service – New routes projected to start in August
By Kayla Beard
Click here for original story in The Athens News.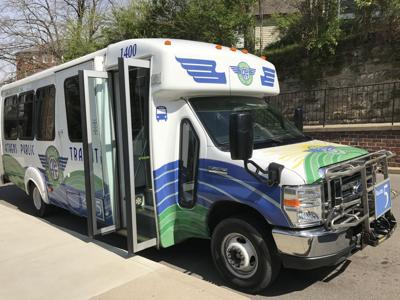 Athens Public Transit is getting closer to beginning a pilot program that would extend fixed-route bus services between Athens and the communities of Nelsonville and Albany.
The Athens County Commissioners last week joined numerous other local partners in committing funds to the pilot project, which would entail six-month operation of a new bus route called Line 7, hopefully in August.
Once implemented, Line 7 would loop once every hour during operating hours. Beginning at Ohio University's Baker Center in Athens, the bus would travel northwest to Hocking College, then on to Nelsonville Public Square, the Nelsonville Public Library, OhioHealth Urgent Care in Nelsonville and then back to Baker Center via U.S. Rt. 33.
Heading south from Baker Center, the bus would take U.S. Rt. 50/Ohio Rt. 32 to a stop at Lake Snowden Park near Albany, then the Marathon gas station/convenience store in Albany (where a Go Bus stop already exists), the Wells Public Library, Dollar General, and Alexander Local Schools campus (all in Albany) before heading back to Athens.
Jessie Schmitzer, Athens County mobility manager for HAPCAP, confirmed in an email Friday that the Line 7 Pilot Project has been in the works "for quite some time," and began with an Ohio Department of Transportation mandate for every county to update its coordinated transportation plan.
"These plans consist of census data, local transportation survey results, a list of all transportation providers in the area, and identified transportation needs across the county," Schmitzer said.
Athens County's Coordinated Transportation Plan was first formulated in 2007 but was updated in 2013 and again in 2017, according to the Athens Mobility Management website.
"The Athens Mobility Management Program began putting the new plan together with five transportation-specific surveys out in the community, multiple roundtables across the county, and data from all transportation providers," Schmitzer said in the email. Data gleaned from those efforts resulted in the identification of 10 prioritized transportation goals for Athens County.
"The first identified goal was 'An Extension of Fixed-Route Services,'" Schmitzer said. "That really got the Line 7 Pilot Project pushed forward. We were able to say to the state and potential local funders, 'Here's the data to support a new line. Here's the major need for this service.'"
Athens Public Transit (APT), which is operated by Hocking, Athens, Perry Community Action (HAPCAP), is a not-for-profit operation.
"In order for something like Line 7 to happen, it requires a lot of planning, documenting data and showing the needs of the community, and identifying potential funding to operate the line," Schmitzer said. "It's not a matter of APT not wanting to expand further out into the county; it's figuring out how we can obtain sustainable funding in order to do so."
The estimated cost to operate Line 7 for six months is $90,000, according to information Schmitzer provided to the Athens County Commissioners (and The NEWS) last Tuesday. To operate the line for one year, the estimated cost would be $180,000.
In total, $81,100 already has been committed to the project from local partners since Mobility Management began identifying funding sources last year, according to the information provided by Schmitzer. The Osteopathic Heritage Foundation of Nelsonville committed $30,000; OhioHealth O'Bleness Hospital committed $20,000; Integrated Services for Behavioral Health committed $12,000; the Athens County Board of Developmental Disabilities committed $8,000; the Athens County Department of Job and Family Services committed $5,000; the city of Nelsonville has committed $1,000; and Stuart's Opera House committed $100, according to the information provided by Schmitzer.
Last Tuesday, the county Commissioners agreed to commit $5,000 to the pilot program as well, and Schmitzer confirmed in her email Friday that Sister's Health Foundation also has made a financial commitment, though she did not specify the amount.
"This entire project is a collaborative effort that would not have been possible without these partnerships and financial commitments," Schmitzer said. "We are waiting on a couple additional financial commitments before we reach our goal and can get a launch date set."
OPERATING HOURS FOR LINE 7 would be Monday through Thursday from 6:16 a.m. to 7:10 p.m., Friday from 6:16 a.m. to 11:30 p.m., and Saturday from 8:16 a.m. to 11:30 p.m. Bus Fare would remain $1 per one-way trip, and bus passes for seniors and people with disabilities would still be accepted, as with all other lines.
Not only would the bus be at the same stop at the same times every day, but Nelsonville and Albany would be considered "hail zones" so people can wave the bus to stop at any point along its main route in those areas, Schmitzer explained to the Commissioners last week.
The goal, according to a handout from Schmitzer, is to have the funding in place by the end of this month and to launch the pilot project in August. Data collected from the pilot will help identify popular passenger pick-up and drop-off areas, knowledge that could aid in future infrastructure, such axs bus shelters along the line, Schmitzer said.