Bus line to Albany, Nelsonville nears HAPCAP funding goal
By Heather Willard Messenger Staff Journalist
Click here to read original story in the Athens Messenger.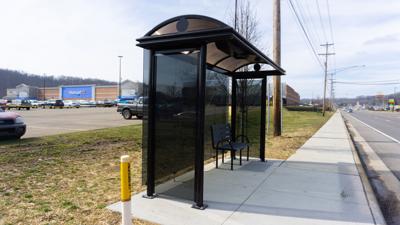 The Athens County Commissioners are pledging funding toward a pilot plan to create public transportation routes to Albany and Nelsonville.
Jessie Schmitzer of Hocking, Athens, Perry Community Action presented the plan at the commissioners' meeting Tuesday.
Schmitzer, the Athens County mobility coordinator, has worked on this project for quite some time. She had previously presented the idea last September during the Integrate Athens Forum.
The plan calls for extending public transportation into Albany and Nelsonville through a single line.
"As you all know, transportation, or the lack of it, is a major barrier for everybody all across Athens County to pretty much anything," Schmitzer said. "Medical access, food, employment, education — it goes on and on."
The Nelsonville portion of the line would begin at the Baker Center Bus Hub in Athens and offer stops at Hocking College, the Public Square, the Nelsonville library, the new Mary Hill Center, the OhioHealth Nelsonville Health Center and return on Route 33 to Athens.
The Albany portion of the line would pick up at the Baker Bus Hub, head to the village along Route 50, and offer stops at the Marathon gas station on Washington Road, the Albany library, the Dollar General and nearby Alexander Local Schools before heading back to Athens.
Schmitzer said it would likely involve two buses "doing figure eights" between Albany, Athens and Nelsonville.
Commissioner Charlie Adkins asked if Route 56 to Radford Road could be part of the route. Schmitzer said that could be possible, as the buses would turn right at the intersection of Radford and Route 50. Both Schmitzer and Adkins noted that the intersection is one of the most dangerous in the county, so ODOT approval would likely be necessary.
"This is pretty amazing," Adkins commended.
So far, about $70,000 in funding has been secured for the proposed bus line. To operate for six months, HAPCAP would need $90,000. Schmitzer asked the commissioners for a commitment of $5,000, which they awarded.
Schmitzer also plans to apply for funding from the Ohio Department of Transportation in November, which could fund upwards of half the project. She noted that a total of $90-100,000 would be needed annually to match that funding.
Other costs associated with this could be a new bus at $90,616 and new bus shelters for $7,520 each.
Like all lines, the loops would work on a hail system, and additionally is required to have the capacity to deviate up to three quarters of a mile to pick up individuals with a disability or handicap. Each loop would offer pickup from each stop every hour, and would still cost $1 like the other lines.
This is the next step toward a county-wide transportation system, with Schmitzer eyeing Glouster as a potential destination of a as-of-yet not planned route.