For Jobs Training and School Help, WIOA's on the Way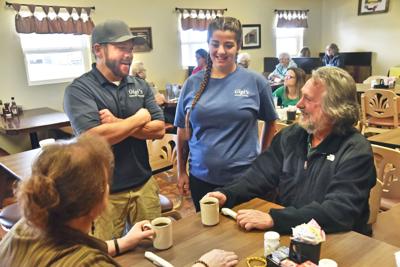 Note: This story appears in the Sunday, Jan. 6 newspaper on Page A1.
Kim Hobbs wants to give money away, but has no one to give it to.
However, she's hoping to change that. Hobbs is the Workforce Innovation and Opportunity Act (WIOA) program coordinator for Athens County, and currently is inviting new participants to join the free program.
The initiative provides funding for those between 16-24 years old in the county who seek job training or higher education for in-demand occupations. The program can pay up to two years of job training or education, meaning participants can attain trade skills and an associate's degree without ever taking out a personal loan to pay for them.
"WIOA pays whatever a loan would have paid," Hobbs said. "If you don't have to take out a loan because we're paying for it, don't. We're paying for the cost of the training: the only thing it costs is your time."
One important factor to the program is WOIA funding is only available to those who have not yet registered for a certain training or educational program.
"People who are already registered, if they want my services I can't put them into the program," Hobbs noted. "My goal is to catch the people before they are registered. We have all this federal funding, but we need people coming through."
WIOA is part of the "one-stop" system used for the OhioMeansJobs of Athens County office in The Plains (formerly known as the Work Station). The idea is to offer a full range of services and resources a resident needs — employment counseling, literacy training and educational support.
Decades, in fact. Hobbs and McGowan have been with the Ohio Department of Job and Family Services since the mid 1990s, and both say their experience can help in ways clients might not expect. Even if an individual may not be eligible for WIOA, they might qualify for another program that might set them back on their feet.
"Once you're trained it can lead to a career pathway. You have your STNA (State Tested Nurse Aide) certification, but down the road you may want to become an RN," McGowan said. "So we want to get people into these career pathways."
Brittany Buck, a server at Gigi's Country Kitchen in The Plains, is currently enrolled in WIOA. The program is helping her pay for her nursing classes at Hocking College.
"Going back to school got delayed for me by having my babies," she said. "By that time I had so much responsibility between working and raising them to make it possible to go back to school. The WIOA program has been a huge help. Kim has made it stress-free. Just completely stress-free."
"I wouldn't have even known where to start," she said. "I would have a lot more stress."
Funding can extend to more than just paying for classes — in Buck's case, WIOA assists with other issues that might block her from getting to school, such as paying to replace a faulty car battery.
Hobbs noted the program includes supportive services, covering the cost of upward of $3,000 a year. Those supportive services could mean gas cards to afford driving to school, referrals for child care, stipends for utility bills and more. There are also monetary bonuses for program participants who complete their certification/degree or find employment.
Far more than that is available at OhioMeansJobs.
"We do mock interviews with people, we have interview clothing because a lot of the people don't have the needed clothing, we do job searches for people," Hobbs said. "It is amazing what the OMJ center does."
Travis Brand, owner of Gigi's Country Kitchen, once utilized the WIOA program himself. He fell on hard times while at college and turned to WIOA for help. (Eligibility requirements have changed since he was in the programs, as new participants cannot already be enrolled at school.)
"In my situation I was enrolled, came upon a hard financial situation, realized 'wow, I need help,' and WIOA was the safety net that caught me and kept me moving forward," he said.
Brand said he is glad the program was able to help him, otherwise he might not have his restaurant.
"I had a reached a point where I just needed some support," he remembered. "It was the stepping stone in the path that I needed to get to where I was going."