UpGrade Ohio Acquired by Rural Action
The original story can be found
here
in the Athens Messenger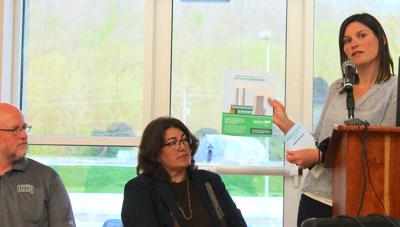 UpGrade Ohio Executive Director Sarah Conley-Ballew, right, is seen in this file photo from April 2018, when she spoke about the opt-out carbon fee proposed for Athens during a meeting to discuss sustainability, energy and environmental plans for the city.
Note: This story appears in the Sunday, Dec. 16 newspaper on Page A1.
On Thursday, Rural Action announced that UpGrade Ohio has been acquired by Rural Action.
The announcement came after a series of discussions this summer, and the process was finished last week. UpGrade Ohio was formed in 2014 as a special project of the Southeast Ohio Public Energy Council, and worked in Southeast Ohio to connect residents with local resources that would reduce energy use and promote renewable energy sources.
"For many years, Rural Action has supported the transition to clean and renewable energy through a number of projects and initiatives, including a member-led energy committee," said Rural Action CEO Debbie Phillips in a press release. "Smart and sustainable energy solutions are a priority for our membership and we are pleased that we now have increased capacity to work in this sector and deepen our commitment to a clean energy future for this region."
As Rural Action's newest program, UpGrade Ohio will now be known as Sustainable Energy Solutions (SES). Through the program, Rural Action plans to work on supporting initiatives that accelerate clean energy development in Southeast Ohio. In the news release concerning the merging of the two groups, SES was said to be focusing on efforts that "scale up energy efficiency, renewable energy and clean transportation initiatives."
UpGrade Ohio's executive director, Sarah Conley-Ballew, will serve as Rural Action's Sustainable Energy Solutions director. She was unable to be reached for comment on Friday afternoon.
UpGrade Ohio had many accomplishments during its time under SOPEC, including helping the county reduce energy usage by nearly 3 percent, resulting in $5 million of collective savings across the county through competing in the Georgetown University Energy Prize as the official organization for Athens County.
UpGrade also was the driving force behind installing seven electric vehicle chargers around the county, including most recently on Nelsonville's Public Square. The organization also "spearheaded" the effort for community aggregation education with SOPEC. UpGrade Ohio also created a program with the Ohio University Credit Union to provide 0 percent interest loans through a hybrid and electric vehicle loan program, through which 71 loans were issued.