Plans Moving Forward for Youth Residential Treatment Center at Former Doctors Hospital
The original story can be found here in the Athens Messenger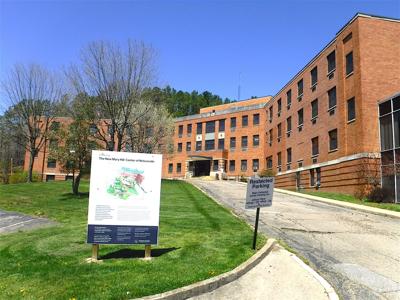 An all-new roof and a new HVAC system was completed this spring at the Mary Hill Center, formerly known as Doctors Hospital of Nelsonville, with the facility scheduled for a Sept. 1, 2019 opening under operation by Integrated Services and Hopewell Health Centers.
Note: This story appears in the Friday, Dec. 14 newspaper on Page A1.
NELSONVILLE — A residential care facility for Children Services youth in need of specialized care is currently slated to open Sept. 1 in the Mary Hill Center in Nelsonville.
"That's an ambitious timeline," said Kevin Gillespie, executive director of Integrated Services for Behavioral Health. "Our goal is Sept. 1, 2019."
He said basic renovations of the third floor of the former Doctors Hospital Nelsonville for the residential facility are complete, and more detailed renovations will be getting underway.
Gillespie said the work is part of the more than $4 million in renovations being done to the former Doctors Hospital Nelsonville building so that it can be put to new uses. Redevelopment of the former hospital is a joint project of Integrated Services and Hopewell Health Services.
The 30-bed, multi-county residential care facility for youth will be operated by Integrated Services in cooperation with an established residential treatment provider, according to Gillespie, who described the facility as providing a psychiatric level of care.
Cathy Hill, executive director of Athens County Children Services, said there is a great need for youth residential facilities, and there are currently none in Southeastern Ohio.
She said Athens County at any given time has 10-12 children in need of specialized residential care, and the agency places them in facilities across Ohio (and currently has a couple in out-of-state facilities). She said these are children who have behavioral health, mental health or developmental issues, and they generally have had some trauma in their lives.
"They are at a level of care that is one step down from hospitalization," Hill said.
She said having local residential care results in better outcomes.
"They will be closer to their families, closer to their service providers," she said, noting it will also provide easier access to the children by Children Services staff.
The proposed Nelsonville facility will have 30 beds and serve more than just Athens County.
Integrated Services hopes to do more.
Integrated Services provided The Messenger with a concept paper for what has been dubbed the Roweton Centers of Ohio, described as "the next step in creating a regional system of care to serve families of children with serious, persistent and complex needs for behavioral health care and a range of community services and supports." Public Children Services agencies in 12 Central and Southeastern Ohio counties would be involved in the planning, according to the concept paper.
The system is envisioned as including psychiatric-level services at the Mary Hill Center in Nelsonville and at a proposed 30-bed facility in Ross County, where a small 20-bed psychiatric hospital is also being discussed. Also envisioned as part of the system would be therapeutic group homes in Athens and Perry counties providing a lower level of care.