Commissioners to Hold Injection Well Meeting
The original story can be found here in the Athens Messenger

By STEVE ROBB Messenger staff journalist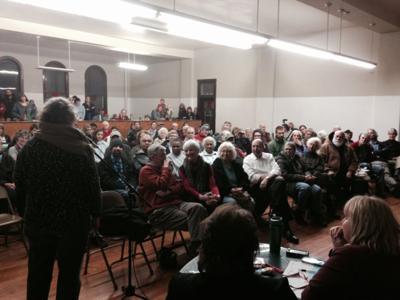 Note: This story appears in the Thursday, Dec. 6 newspaper on Page A1.
People who wish to comment on an injection well planned for Athens County's Troy Twp. can do so directly to the Ohio Department of Natural Resources, or through the county commissioners.
K&H Partners of Parkersburg has applied for a state permit to drill its fourth injection well in Troy Twp. Injections wells are used to dispose of brine and other liquid waste from oil and gas wells by pumping it underground. The state has an official comment period of 15 calendar days from Dec. 7, according to a public notice the company had published.
On Tuesday, the county commissioners announced they will host a public meeting on Dec. 18, through which people can submit comments to ODNR. This meeting will take place from 6-7:30 p.m. at the Athens Community Center.
The meeting was requested by Roxanne Groff, an opponent of the injection well.
The commissioners earlier voted to ask ODNR for an official public hearing about the proposed injection well, but Groff said Tuesday that she doubts the request will be granted. ODNR has previously denied requests from the commissioners for public hearings on injection wells.
The commissioners are asking that those who wish to speak at the meeting keep their comments brief, and to bring written copies of their comments for submission to ODNR. The commissioners said comments can also be emailed to their office at jbrooks@athensoh.org.
Comments also can be sent directly to ODNR at: Ohio Department of Natural Resources, Division of Oil and Gas Resources Management, 2045 Morse Road, Building F-2, Columbus, OH 43229-6693.