Athens Signs Agreement with DriveOhio
The original story can be found here in the Athens Messenger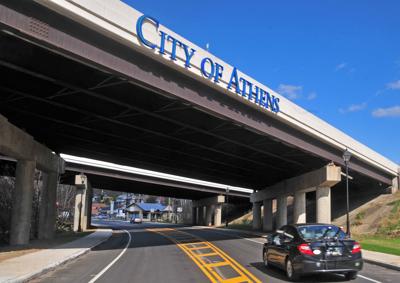 Athens officials have noted interest in DriveOhio since it was first announced in January, and recently signed an agreement to work with the state's new center for smart mobility.
DriveOhio was introduced to the state when Gov. John Kasich created the program to bring new technology such as self-driving cars to Ohio cities, and has been called a "one-stop shop for researchers, developers and manufacturers." The initiative's goal is to bring companies which create autonomous vehicles in touch with cities and municipalities that are willing to be test areas for the new technology.
The agreement was signed by Athens officials in late November, and creates a partnership between the city and DriveOhio. The city agrees to share information about roadways within the city, and DriveOhio in return will promote the city to interested technology companies seeking test markets.
"The agreement basically is an agreement to cooperate and share information as we develop anything in infrastructure that would support connected and autonomous vehicles," said Andy Stone, the city's service-safety director. "A concrete example would be if the city were interested in doing an autonomous shuttle, similar to what's going on with COSI on the Scioto Mile."
In September, an initiative aimed at promoting connected and autonomous roadways in Columbus announced that a self-driving shuttle will operate on the Scioto Mile in Columbus, connecting four locations on a three-mile route.
Stone said Athens is similarly interested in establishing an autonomous shuttle here, and that DriveOhio would help by advertising the city's unique attributes (such as local topography and infrastructure the city has implemented) to interested companies. DriveOhio would also help with design work, and coordinating with the city to educate law enforcement and the public on how to interact with autonomous vehicles.
Stone noted that there is not equipment for testing autonomous or connected vehicles yet installed around Athens, but that the city has been slowly installing conduit under roadways while the road is torn up for other repairs to allow for future infrastructure.
"It's much cheaper and easier to do so (create the infrastructure for autonomous vehicles) if conduit is already in place," Stone said.
He mentioned specifically Athens high density of population when Ohio University's fall and spring semesters are in session, and to a lesser extent while the summer session is ongoing. He also mentioned Athens' hills; the conduit already installed by the city earlier which covers much of the route officials are eyeing for a potential shuttle route; as well as the presence of roundabouts and signalized intersections within the city.
"It just seemed to me that this could be a way that we could get ahead and ride at the front-end of technology and innovative transport, instead of lagging behind," Patterson said.
Stone said there is no financial burden to the city by merely joining in this partnership. However, if the city decides to build the necessary infrastructure for such vehicles, he said there would likely be a significant price tag attached. Stone noted that the city would be pursuing options for outside funding if the city does seek to build the infrastructure.
"There is great opportunity for economic gain in the form of just economic development for businesses who may be interested in locating here," Stone said.
"It's not something that can just happen overnight," Stone explained. "There's a great deal of policy that has to be developed … the infrastructure has to be in place to receive and assist autonomous and connected vehicles."
"I could see us testing a roadside unit in the next few years," Stone said.
But there is a lot that goes into getting an autonomous or connected vehicle on the road.
"You'll most likely see first something like a roadside unit at an intersection that is perhaps integrated with a traffic signal that would be gathering information, such as presence of pedestrian traffic, and then a vehicle that has an onboard unit that would receive information as it drives," the service-safety director said.
Stone noted that Marysville, Ohio (with a similar population to Athens of around 24,000 residents) was recently selected to be a testing site — for 1,200 vehicles with onboard units that would communicate with devices installed in roads, traffic lights and other types of infrastructure. The vehicle would alert drivers of possible issues, as well as law enforcement and traffic managers about road and traffic conditions.