Local Program Offers Free Learning, Job Training – Here's How to Get Involved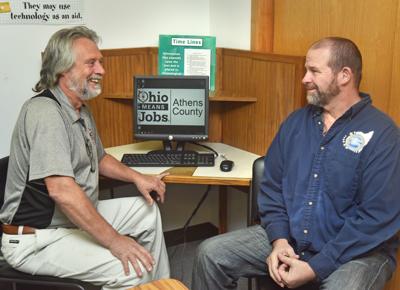 The original story can be found here in the Athens Messenger
Note: This story appears in the Sunday, Dec. 2 newspaper on Page A1.
The best-kept secret in Athens County offers adults here a free chance to learn, get a GED, gain job skills and even attend college.
Organizers want to spread the word about Aspire and other similar programs far and wide — to give every adult in Athens County a chance at a better future.
The Aspire learning program for adults has been around for decades, though for much of that time it was known as ABLE. It is a state program offered through each county in Ohio.
Here in Athens County, the program is currently offered through a partnership with OhioMeansJobs and Ohio University.
Adults are welcome to visit the OhioMeansJobs office in The Plains and learn on their own schedules, said program supervisor Joe McGowan. The office, located at 70 N. Plains Road, Suite C, is open Monday through Friday from 8 a.m. to 5 p.m.
There are also classes available at the Tri-County Career Center in Nelsonville from 1:30-4:30 p.m. on Tuesdays, Wednesdays and Thursdays.
The program will even pay for the testing cost.
OhioMeansJobs office provides many ways to help
The office in The Plains offers more than GED prep — there are a variety of other free services available to Athens County residents.
Two employment counselors are available to help visitors with building resumes and other job searching needs. The office also hosts occasional job fairs to connect residents with employers directly.
The office also utilizes federal funds from the Workforce Investment and Opportunity Act to provide a chance to earn a trade certificate or college degree. This includes Commercial Driver's License (CDL) training, cosmetology, nursing and a variety of other programs at Tri-County Career Center, Hocking College and elsewhere.
Not only will the office provide funding for the coursework, but can help students with other supportive services, McGowan said. He noted examples where students received help with repairing their cars to get to class, or to help pay for work clothing and materials.
Workers at the OhioMeansJobs office also can assist with providing services for veterans and disabilities.
All it takes, McGowan said, is to visit the office in The Plains or call it at 740-797-1405. Workers there will either provide the help needed or connect the person with agencies that can.
OU has hopes for further opportunities
Ohio University is also playing a role in adult education with the Aspire program.
Involved is OU's Patton College for Education, and by extension Patton's Stevens Literacy Center. This Center's mission is to promote reading and literacy across all age groups, said Director Julie Francis.
Francis said the Center has big goals for Aspire, with evening classes on OU's Athens campus to start next year. There are also plans to host adult learning classes at various public libraries around the county — in Nelsonville, Glouster and Albany, for example.
Additionally, Francis said the Center plans to host programs in partnership with area school districts — in particular, Nelsonville-York and Alexander. She described the potential for programs involving the whole entire family.
One example might be a family night on the topic of money: adults would learn about budgeting, their kids learning basic money principles with age-appropriate activities, then everyone could come together at the end for a group activity. Similar family programs could involve math, reading or other general life skills.
Francis said there are also plans for OU to partner with local businesses to offer apprenticeships for Aspire participants. If someone with a GED or high school equivalency wants to continue their education, Francis said the Center could help adults attain grants/scholarships to eventually attend Ohio University, Hocking College or any other higher education institution.
These are just some of the ways Aspire can provide help to local residents, Francis said. The hope is to utilize networking and partnerships around Southeast Ohio to make a deep impact in giving educational and work opportunities to all residents here.
"This is just the beginning," she said.